For people living in the Southern part of America, taking a day trip for dental work across the border is not unusual. Dental implants in Mexico can save you thousands of dollars without compromising on the quality you'd receive back home.
Medical costs in countries like the USA and Canada are notoriously expensive. That's why a large proportion of those citizens resort to Mexico as the next best alternative. Not just dental care, but healthcare, in general, are of a higher standard. Moreover, the price difference is just huge. For example, a dental implant per unit can cost you around $1,850 in the US, whereas Mexican clinics will charge you approx. $780.
You'd probably have a lot of questions in your mind on how things will work out. To make your process more feasible, we have compiled this comprehensive guide regarding dental implants in Mexico. It will cover everything from prices, types of procedures, places best for dental implants, what to consider, and much more.
Table of Contents
Why Get Dental Work in Mexico?
Mexico receives over 14,00,000 medical tourists each year. And around 1 million of them are solely from America. The main reason why so many people travel to Mexico is the price. You can easily expect to save anywhere around 70% to 80% of the total cost.
Cost is just one factor; what else draws more patients is hygiene and higher standard equipment. Mexico's medical industry is highly competitive. Most cities offer treatments at lower costs. To stand out from the competition, hospitals invest in updated equipment and train employees to maintain proper hygiene. That also pushes dentists to stay up to date with the best practices suggested by internationally accredited bodies.
You will also enjoy shorter waiting times. Once you have registered an appointment, the hospital will prepare all the arrangements shortly before your arrival. Also, larger hospitals have all types of specialists in one place. So, you will probably not have to deal with traveling in multiple locations.
Private hospitals are great for tourists, as most offer dedicated services. US citizens will benefit the most. That's because hospitals with JCI accreditation are just a few miles across the border.
Is it Safe to Get Dental Treatment in Mexico?
Getting concerned about safety is reasonable. And, there's a higher risk of getting infections in oral surgeries. But what you need to know is that, regardless of the hospital and the country, no one can guarantee 100% risk-free surgery. Therefore, you can only take the necessary precautions to minimize complications. There are three things you should check before considering dental implants in Mexico:
Check for accreditation. If the hospital has JCI accreditation, then that's great. JCI accredited hospitals will follow American standard medical care.
Check the doctor's experience and credentials. They should have at least a few years of experience in the field. Also, they need to have legal certification on particular treatments from a reputed authorizing body.
Check the hospital's popularity and reviews. Dental implants in Mexico are already well established. So you will find someone who has to say something about the hospital you've chosen. If possible, ask them about their experience and then decide whether you want to get treated there or not.
What About Tourist Safety?
You may have heard about drug wars and street violence in the news. These are present in the country but limited to certain localities. As long as you are in tourist destinations, you should be fine. There's no record of tourist-targeted attacks. And the government is very serious about their tourism industry. You may frequently see police guarding popular tourist places. Also, to make things more attractive, many hospitals offer ground transportation to and from the airport, trains, hotels, etc.
Training for Dentists in Mexico
The primary reason why people value the US and Canadian medical systems is because of continual practice. Doctors must demonstrate having up-to-date knowledge to retain their status and license. Whereas, in Mexico, that's not the case.
Once a practitioner has completed their medical studies, they don't need to get re-certified. It can be both good and bad. The positive side is that, as doctors don't need to pay for continuous education, treatment prices stay low. The downside is that there are many outdated doctors in service.
However, thanks to the rising demand for quality treatment, doctors in rising numbers opt to get re-certified. Organizations such as Mexican Dental Association provides dentists with a five-year certification for their expertise. They have to re-certify once the period is over. It isn't mandatory but is a step in the right direction. Many dentists also travel to the US or other European countries to undertake further training.
Now, if you see dentists with 10+ years of experience, don't get impressed. Ask them proof of their continuing education. The best dentists will opt for further education and will happily provide you with the evidence.
Regulation for Dentistry in Mexico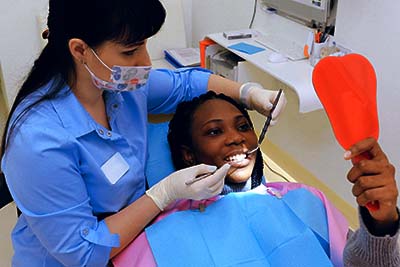 Dentists in Mexico don't require a license to offer their service. This has resulted in producing thousands of unqualified dentists in the market. And as there is no legal formality, the quality and service provided also vary.
However, dentists serving medical tourists recognize the need for accreditation. So, many get certified and happily portray their credentials to attract foreign tourists. Many dentists have American Dental Association (ADA) membership. So if you are concerned with the standards, consider getting a dentist with an active ADA license.
What Dental Treatments do People Get in Mexico?
Many insurance companies in the US don't include dental treatments in their coverage. This poses a serious problem for many Americans, as almost 46% of people over 30 years face tooth decays. Therefore, most find Mexico a very soothing option.
Finding your desired treatment won't be an issue in Mexico. From simple cleaning to complex dental implants, all are available here. The procedures mentioned below are some of the common treatments foreign patients are looking for the most.
Dental Implants in Mexico
Dental implants in Mexico can literally save you thousands of dollars if you are traveling from countries like the USA and Canada. However, prices will vary depending on what type of implant you are going for. Regular implants tend to cost higher as more work and materials are used. A sought-after choice for most people is the all-on-4 procedure, which we will discuss in the next section. Other types of dental implants include snap-in implant dentures, G4 implant, all-on-6, etc.
All on 4 Dental Implants in Mexico
All-on-4 implants are the most common ones you will come across. Unlike traditional implants, all-on-4 doesn't require patients to wait six months for healing. Usually, a temporary denture will be placed right after the surgery. Then permanent teeth will be placed after a few months. This method uses four to six implants on the bone to make a stable structure to support crowns and bridges. The rear implants are positioned at a 30 to 40-degree angle to reduce the need for bone augmentation. The reduced time and cost have made all-on-4 a more preferred choice for most people. Moreover, you will require only two to three visits to complete the entire procedure.
Dentures in Mexico
Dentures can be an ideal choice for people on a budget. These are considerably cheap and gives you an immediate result after implementation. However, dentures will need to be changed after every few years. Ideally, it will fit over the gums with suction alone. If the fit is not correct, the adhesive is usually applied to compensate for it. The supporting bones tend to shrink because of a lack of teeth, so if you don't change the dentures on time, it can cause discomfort and eating issues.
Moreover, it needs to be cleaned overnight. You would typically put the teeth in a glass and leave them there. Also note, the cost can rise depending on the materials used to make the denture. It can go from a few hundred dollars to a thousand dollar mark. Dentures are custom-made to fit the patient's mouth. The upper part will cover the mouth's entire roof, and the lower section will have a U-shaped cutout to accommodate the tongue.
Veneers in Mexico
If you have discolored teeth, chipped some parts, or want an alternative to braces, veneers are an affordable substitute. The cost of veneers in Mexico will vary depending on the material used. Using porcelain will cost more but is better in terms of longevity. The veneer is created based on the original teeth. However, a part of your original teeth will be permanently removed to achieve a natural fitting. If you are low on cash, composite material is an option. But be advised, it will erode after a few years.
Braces in Mexico
Braces don't only align teethes but also improves the facial profile. Getting braces in Mexico can save some serious cash. But should you choose Mexico for the treatment depends on your location and preference. You will need to make regular visits each month to keep a check on the progress. Getting braces in Mexico is primarily suitable for people living near the border, where they can go in and out of the country in a single day. Otherwise, you would be better off back home.
Cosmetic Dentistry in Mexico
Cosmetic dentistry is a broader topic covering various facial improvement procedures. It can include whitening, veneers, crowns, implants, etc. Please note that American Dental Association doesn't consider cosmetic dentistry as a specialty. It is a generic term used by dentists to denote modifications of facial structure. Regardless of what falls into this category, be assured the price will be lower in Mexico than in many other countries.
Dental Crowns and Root Canals in Mexico
Dental crowns and root canals both complement each other. But depending on the severity, dental crowns might be enough. This will also cut down the cost. Generally, a root canal is needed if you have any problems with the teeth, such as inflammation or infection in the pulp. Once the root canal is complete, the teeth will get weaker, so a crown is attached. These are prevalent treatments done by most dentists. However, please be careful of going to cheap hospitals. Dental crowns in Mexico usually require around two days to produce. To cut corners, some dentists might offer single-day service. Also, an unqualified dentist might provide you with a discolored crown.
Other Dental Work in Mexico
Dental vacation in Mexico is extremely popular. Americans come here for even the simplest treatments like cleaning, filling, whitening, root scaling, etc. People living in the southern part also come here for routine dental checkups.
Mexico Dentist Prices
By now, you've got a good gist of how much you can expect to save from the dental expenses. But to give you a clearer picture, we have made a table comparing the price of dental implants in Mexico vs. the US. Then we will talk about why it is cheap.
| | | |
| --- | --- | --- |
| Procedure | USA | Mexico |
| Single tooth Implant | $1,850 | $780 |
| All on 4 (per arch) | $24,300 | $10,500 |
| Implant Dentures – 4 implants (per arch) | $17,250 | $6,020 |
| Implant, Crown and Abutment | $4,930 | $1,220 |
| Teeth Whitning | $600 | $168 |
| Fixed Bridge – 6 Implants (per arch) | $28,030 | $11,280 |
Why is Dentistry in Mexico Cheap?
There are a few factors that underlie the reasoning for dental costs being so inexpensive. Firstly, the living cost is way cheaper comparing with other American countries. Rent, wages, food, utilities, etc. are all extremely affordable, which drives down the cost to a greater degree.
Then, doctors don't need a license to continue practicing their work. This has led to a huge influx of doctors in the country. As they don't need to pay to keep their status active, no extra cost is thrown upon patients to accommodate for it.
And finally, the cost of education is very low. Doctors don't have any debts to repay. Therefore, they can charge a lower price for their service. Many people initially think the standard of care is kept low to offer services at such prices. But that's definitely not the case. The quality of care is mostly equal.
Where to Get Dental Implants in Mexico?
Trying to find medical services in Mexico is similar to looking for grocery shops nearby. You will likely find hospitals and clinics a couple of blocks apart from your location. Mexico is also one of those few countries where you can drive to or walk across borders to receive dental work. And because of high competition, many dentistries even offer shuttle services to unusually further distances. You can possibly get shuttle services distancing around 200 miles from the hospital.
To pick the right location, first, think about what you want to do. If dentistry is purely what you are traveling for, then staying close to the border would be ideal. However, many wish to combine some extended vacation along with it. For them, there are cities more than suitable for dental vacations. We will be suggesting some top picks regarding the best destinations for dental implants.
Crossing the Border
You can literally drive to any city crossing the US borders for dental work. However, a selected few stand out as popular spots for tourists. We will be recommending three of those destinations in this section.
Dental Implants in Los Algodones, Mexico
If you are from Arizona, then you are in luck. Los Algodones is near Arizona and California borders and is home to approx. 600 dental professionals. Americans not covered by dental insurance travel here on a regular basis to get their dental work. This small city serves thousands of dental patients each day, thus, receiving the title "Molar City." Prices here are one of the lowest comparing all of Mexico. You will also notice a sheer number of opticians and pharmacies. This would be a favorable opportunity to get other medical services during your stay. Medicines in the US are also outstandingly expensive, so packing medicines for the whole month may be worthwhile.
Dental Implants in Tijuana
Getting dental implants in Tijuana, Mexico, is another step in the right direction. It won't surprise to see hospitals serving almost entirely to American and Canadian patients. Tijuana is near the California border and also has a good reputation for being a general tourism destination. Hospitals might not be within walking distance, so consider taking public transport. You may contact the hospital for shuttle services as well.
City of Nogales Near Texas Border
Nearing the Texas border lies the city of Nogales. This colorful city has long been a place for Americans to buy medical supplies and Mexican handicrafts. More recently, the city is becoming a go-to place for dental needs. Plus, clinics are within walking distance from the border. Nogales has easy access for US citizens. In a single day, you could literally visit your dentist, enjoy a lovely warm evening, and do some shopping on your way back home.
Taking Flight for Dental Implants in Mexico
Most mainstream cities of Mexico will host all types of medical services. But people tend to prefer places that are more suitable for vacationing or conducting business. That being said, here are three more destinations we'd suggest if you need to fly for dental work.
Dental Implants in Cancun, Mexico
Head to Cancun if you aren't living close to the borders. It will enable you with a wider array of dental services and a chance to enjoy amazing vacation spots. Cancun is home to some of the most beautiful beaches and historical sites Mexico has to offer. You could basically spend your dental recovery on a sunny beach along the coast. Furthermore, from higher standard dental implants to cosmetic dentistry, all types of dental procedures are available there.
Puerto Vallarta
Apart from being a dental tourism destination, Puerto Vallarta is a delightful place to enjoy a mix of culture, history, and modern amenities. Here you can expect to save anywhere from 50% to 80% of the total dental expenses while still maintaining top-notch quality. Besides, countless beach resorts are lining across the Pacific Coast that you can make use of during your recovery. Moreover, it isn't unusual to find all-inclusive accommodations close to tropical beaches.
Mexico City
Being the country's capital, Mexico City offers its fair share of dental hospitals across the city. Due to its economic significance, you will find all facilities and conveniences available in a typical developed country. There are countless interconnected air and ground transport that you can make use of. International flights are easily accessible to and from different parts of Mexico City. Rest assured, you will find cheap dental services regardless of where in the city you are staying.
Finding the Best Dentist for Dental Treatment in Mexico
Scavenging for the best dentist in Mexico can get overwhelming very soon. There are literally hundreds of dental clinics scattered across all major cities of the country. However, filtering those using set criteria can top-down the search to an aggregable list. We recommend you don't get influenced by word of mouth; rather, do your own research for the best outcome. Previously, we have mentioned a few things to keep in mind. However, here is a more apt approach for you to follow.
Check if They are Qualified
Countries have their own regulations and criteria that define their medical standard. The quality of care will thus vary because of it. For example, American dental standards by all measures will outperform any under-developed nation. Therefore, check who's the accrediting authority the dentist is registered with. It doesn't define their level of expertise but confirms that they are following a certain standard.
Also important, a dentist specializing in dentures doesn't necessarily qualify for cosmetic dentistry. So always check for certificates on a particular specialty. Not just the dentist, the hospital/clinic needs to be accredited by an international governing body. This will ensure a specific standard is maintained throughout the facility.
Check for Previous Work
Know how many patients they've treated on the procedure you are interested in. Plus, ask for pictures of some patients and the overall success rate. If the hospital is popular, then they will likely have a good social presence. Therefore, you can check what others have to say about the quality and standard of care. If possible, contact a patient and ask about their experience.
Continuous Education
In Mexico, a practitioner doesn't require to get re-certified to prove their eligibility. However, dentists treating tourists knows the value of an updated certificate. So to attract tourists, many opt to get re-certified. We recommend getting treated only from those dentists with the most up-to-date license.
Aftercare
Higher standard private hospitals will likely give you some security if anything goes wrong. So before the treatment, enquire about the aftercare facilities. Know what support will you get in case complication arises after returning home. Ask will they pay for those treatments or not. Look into the insurance policy and what's guaranteed in it.
The hospital may provide you with free treatments if complications arise; though, you would likely have to pay for the travel and accommodation expenses. Also, get a copy of your medical data. It will come in handy if you are showing it to your local dentist.
Alternative Destinations for Dental Work
Mexico is a great destination for dental tourism. However, it is not the only option. American patients often travel to Costa Rica to combine dental tourism with ecotourism. Israel is also another alternative. But it isn't a cheap destination. Usually, patients travel there for the highest standard of medical care. And for exotic vacations, consider Singapore. This small city-state has state-of-the-art facilities and loads of sightseeing options to spend the entire recuperation.
Dental Implants in Mexico – Frequently Asked Questions
How much do dental implants cost in Mexico?
A single dental implant cost in Mexico will be around $780, and an implant including crown is approx. $1,605. For full mouth implants, you will likely have to pay $12,000.
What is the cost of veneers in Mexico?
The cost of veneers in Mexico will depend on the material and type you choose. Composite veneers are $290. However, most patients opt for porcelain veneers. It is more expensive but will last significantly longer than the composite counterpart. You will have to pay around $450 for it.
How much do Lumineers cost in Mexico?
Lumineers are different types of veneers. These are thinner, lighter, and faster to apply. Lumineers even cost less than porcelain veneers. The price for Lumineers in Mexico is around $420.
How much does a root canal cost in Mexico?
The average cost of a root canal in Mexico is between $300 to $400. In more expensive hospitals, you may need to pay around $450 to $550.
What is the cost of dentures in Mexico?
The price of dentures in Mexico will vary depending on what type of dentures you want. Dentures per arch will cost around $380 to $490. For implant dentures per arch, it will increase to $6,000. The price will also increase if you opt for dentures made with premium materials.
Can you get cosmetic dentistry in Mexico?
Yes. In fact, many Americans visit Mexico, particularly for low-cost cosmetic dentistry. You can expect to save more than 50% on most cosmetic procedures.
Where can I get cheap dental implants in Mexico?
Los Algodones, Tijuana, and Nogales are some of the most popular places for dental implants near the Mexican border. Also, you can go to Mexico City, Cancun, and Puerto Vallarta for inexpensive dental works.
Conclusion
If everything goes as planned, you will have a very enjoyable experience with your dental implants in Mexico. The country's proximity has made it an easily accessible destination for most of the Americas. Moreover, the Mexican government is very active in promoting itself as a viable solution for all types of medical needs. If you want a complete overview of medical tourism in Mexico, consider reading our full article on the topic.