Historically, Mexico City, Monterrey, and Chihuahua were always amongst the most popular destinations for medical tourists. However, Cancun has been gaining a lot of traction for its healthcare services recently. That's due to its affordability and ease of access to foreign tourists from other European destinations. Cancun has its own airport, and direct flights are easily available.
Cancun is renowned for its elective procedures. You will easily find travel companies offering various attractive packages to combine these elective procedures with affordable vacation activities for recuperation. In addition, it is home to several major hospitals and clinics that cater to international patients. Currently, Mexico has a total of seven JCI-accredited hospitals, out of which two are located in Cancun.
Is Cancun safe for tourists?
Cancun is one of the most popular general tourism destinations in Mexico. So, by nature, it is quite safe. In fact, it is common to see multiple police patrolling near mainstream tourist attractions. However, it's good to be vigilant. Pickpocketing and scamming can be an issue in certain regions. So it is recommended to hire a guide who can help you stay away from these troubles. Also, consider hiring a private taxi instead of uber. Cancun has authorized taxi services, which offer better and safer travel for tourists.
Why choose Cancun for medical tourism?
As we have mentioned before, due to being a major tourist destination, Cancun has a better status in terms of personal safety. The city offers all the amenities you may need, and the infrastructure is well-developed for catering to foreign tourists. Similar to other Mexican tourist destinations, you will find most of the major healthcare services in Cancun. However, it is particularly known for its plastic surgeries and weight loss procedures. As compared to the USA and Canada, you can get medical care at 50% to 80% less price, including various translator, transport, or accommodation packages offered by hospitals. Surgeons are highly trained and use up-to-date facilities and equipment for performing surgeries.
Comprehensive medical services are available in Cancun
As more tourists are coming to Cancun, new infrastructure is being developed, making medical services more accessible to everyone. The city is now offering more and more types of healthcare services & packages to foreign patients. As bariatric surgeries have emerged to be amongst the most sought-after treatment in Cancun, medical centers are using the most up-to-date and advanced medical equipment for such procedures. American standard facilities and equipment are readily available in mainstream clinics and hospitals all across Cancun.
Plastic surgeries are another specialty of Mexican surgeons. These are most popular among Americans and Canadians as the out-of-pocket costs for any sort of cosmetic, reconstructive, and plastic surgeries are far less in Cancun than in their own country. In addition, luxurious cabins, higher staff ratios, translators, shuttle services, etc., are usually included in the medical package. For such services, you will likely need to pay a higher premium in many of the western countries.
Here is the list of some of the most common procedures available in Cancun's medical centers:
Aesthetic/plastic surgery
Reconstructive surgery
Bariatric surgery
Cancer Treatment
Dentistry
Oncology
Head and Neck surgery
Pediatric care
Neurosurgery Orthopedic surgery
Trauma service
Postoperative care
Hospitals and medical clinics in Cancun
Cancun has plenty of excellent hospitals and clinics scattered throughout the City. Top medical centers treating foreign patients offer world-class healthcare services and have met standards comparable to international benchmarks. Like we've mentioned, the City alone has two JCI-accredited hospitals out of the seven available in the country. If you can't get admitted to one of these, then don't worry. There are several other certified options available as well. Below, we have listed a few of the medical centers recommended for international patients traveling to Cancun.
Get updates from the embassy
It is always recommended to keep in touch with your embassy if you need any sort of help. In case of any emergency, general assistance, or legal support, they will be able to give you the most up-to-date information.
U.S Consular Agencies in Cancun:
Location: Blvd. Kukulcan Km 13 ZH, Torre La Europea, Despacho 301
Cancun, Quintana Roo C.P. 77500
Phone: from Mexico 800 681 9374, from the U.S. 844 528 6611
Consular Agency of Canada in Cancun:
Location: Blvd Kukulkan Km 12 Oficina E7, Zona Hotelera, 77500 Cancún, Q.R., Mexico
Phone: from Mexico 998-883-3360, from the U.S. 011-52-998-883-3360
Traveling to Cancun for medical tourism
Due to its geographical location, Cancun is fairly easy to travel from most of Europe and American countries. The city is well-developed and has everything in place needed to serve international tourists. Navigation throughout the city is easier even without a guide. However, getting more insights on how to travel is always useful. Whether you are traveling to the city for medical vacation or for normal vacation, this section should help you get a better idea of how you should travel and navigate to the city.
Traveling by Road
Traveling to Mexico is the easiest for American citizens, as both countries share the same border. If you have a passport, you can literally walk to Mexico through the designated Ready Lanes. However, Cancun is not located near the borders; thus, traveling by road might be a bit counterintuitive. It is located on the southeastern side of Mexico. But, if you do decide to travel by car, know that you will have to arrange everything yourself. Instead, if you purchase travel packages from travel agencies, they will arrange everything for you, including your medical arrangements.
Note: You will need a temporary import permit for cars registered in the United States to drive into Mexico.
Airtravel
Foreign patients can travel to Cancun via the Cancun International Airport. Direct flights are available for both national and international travel. In addition, the airport offers transport services to all travelers. Visit their website to arrange your transfer to your hotel. You have to pay for the arrangement; however, discounts are available on pre-arrangement bookings.
Common flights to Cancun:
Atlanta – 2h 30m
Chicago – 3h 40m
Houston – 2h 15m
Los Angeles – 4h 45m
New York – 4h 0m
Toronto – 4h 0m
Vancouver – 8h 40m
Moving around the city
You would likely face high traffic, so we recommend you hire a private taxi service. Uber is also available; however, private taxis are usually safer as they have an upper authority monitoring them. Public transports will be much cheaper and can be a good option for traveling shorter distances. If you tend to stay for long periods of time, then private transport services are recommended.
Where to stay in Cancun?
Cancun is home to all types of accommodations at all types of budgets. From beachfront resorts to city views or family hotels to adults-only options – Cancun offers something for people of every demographics. So depending on what you want to do with your medical vacation, plan where you want to stay. To make your process simpler, we have picked a few hotels located in different tourist destinations in Cancun. These include accommodation options ranging from cheap to luxurious and beachfront to city environments.
Cancun Hotel Zones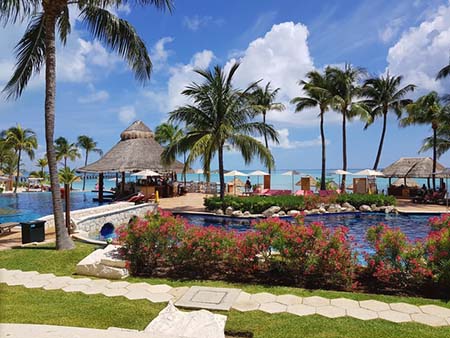 Encompassing several subdistricts, Cancun is home to hotel zones that are almost built around the tourist industry. Tourists are offered easy access to all-inclusive hotels and resorts. If you don't mind being around a lot of people, then this might be an ideal place to stay. Here, you will find everything you will need as a traveler. You won't even need a translator, as a large proportion of the tourists visiting these hotel zones are from English-speaking countries.
Some of the popular options available are:
Playa Mujeres
Playa Mujeres is known for its luxurious beach sites. Here, you will get ample options for family and adults-only resorts with a seafront view of the Mexican Caribbean sea. It is located in the north part of Cancun. It is also close to the Cancun airport, so traveling here will be much easier. Some key features of Playa Mujeres are its wetlands preserves and natural, untouched landscapes.
Some of the popular options available are:
El Centro
If you prefer a city environment, then travel to El Centro. It will give you a proper local city experience. It is home to outstanding restaurants, nightclubs, shopping malls, taco shops, bars, and much more. El Centro is also a good place for budget travelers. It does offer luxurious accommodations options, but most are geared towards mid-budget travelers.
Some of the popular options available are:
Things to do in Cancun
Cancun is a small city but is packed with biodiversity, culture, history and offers tons of activities you can do as a tourist. Due to its low living cost, international standard medical care, and favorable atmosphere, the city attracts millions of tourists each year. In fact, in 2019, the total number of tourists that came to Cancun reached over 6 million. There's a lot you can do here; however, to get you started, we have picked some of the most popular activities you can do while on your medical vacation. All of our recommendations below are easily accessible and won't put too much pressure on your budget.
Spend some time at the ruins of Ancient Chichen Itza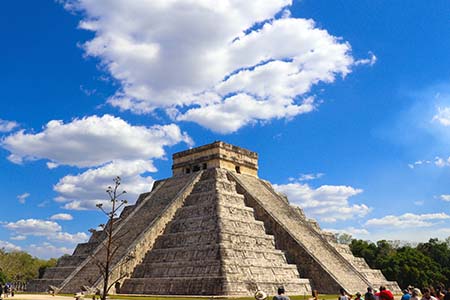 If you want to see one of the wonders of the world during your medical trip, head to the Ancient Chichen Itza. In addition to this title, it is also marked as one of the UNESCO world heritage sites. Its history dates back to 600-740 A.D and is a pre-Colombian city built by the ancient Maya people. This place is one of the most visited sites in Mexico and is surely recommended for tourists.
Take a trip to Tulum
Tulum is an ideal location if you want to spend 1-week on one single location. It is known for its beautiful, exotic, and spiritual views & sites. The city is compact and is very well preserved despite such a high tourist influx. It is one of the last cities built by the ancient Maya people. Ruins can easily be spotted on cliffs along the east coast of the Yucatan Peninsula. Moreover, you will find hotels offering all-inclusive packages at varying prices. Daily tour busses are available that will give you a proper experience of the variety of landscapes present in the city.
Visit the underwater museum
If your medical condition isn't restricting your activities, then go scuba diving at the underwater museum of MUSA. It is located off the coast of Isla Mujeres. This project was developed to counteract the effects of climate change on the ocean and reef systems. Although it is open to tourists since 2010, it is still a work-in-progress. Once finished, it will consist of 12 galleries comprising around 1,364 artificial habitats. There are a lot of things to see there, so definitely consider taking a trip to MUSA.
Party at Coco Bongo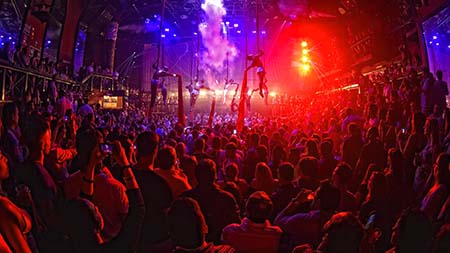 Unlike the traditional nightclubs you'd see in most of Mexico, the Coco Bongo is something unique. Here, you will get to witness highly energetic performances from acrobats, live bands, musician impersonators, and much more, which isn't something you'd generally see. Moreover, it doesn't offer any traditional dance floor, which might upset some travelers expecting conventional experiences. Still, there are plenty of other nightclubs nearby, so if it isn't working for you, there are options available. Anyways, if you want to experience something unique, keep it on your list.
Explore the Market 28
Market 28 is a huge flea market located in downtown Cancun. This market is filled with hundreds of vendors and restaurants and offers tons of products like handicrafts, textiles, leather goods, blankets, maracas, and a variety of other things. You can also get to try out authentic local foods at a fraction of the price. Note that, if you are traveling by bus, it may not directly drop you in front of the market. You will have to walk a few blocks until you see an archway with "Mercado 28" written on it. Don't buy anything without bargaining. Vendors will usually ask for high prices, but bargaining is also very easy there.
Frequently Asked Questions
Is Medical Tourism affordable in Cancun Mexico?
Yes, just like most places in Mexico, medical expenses are very affordable in Cancun. Also, you can easily find various cheap medical tourism packages offered by tourism agencies. Hospitals also provide shuttle services and personal care services dedicated to foreign patients.
Does Cancun have good hospitals?
Hospital Galenia, Hospital Amerimed Cancun, and Plastic Surgery Riviera are some of the better-known hospitals in Cancun. The first two we've mentioned are JCI accredited and are the only JCI accredited hospitals in Cancun.
Is Cancun safe from plastic surgery?
Yes, Cancun is safe for plastic surgeries. It is, in fact, one of the specialties of surgeons in the city. Hospitals and clinics use the most up-to-date technologies and practices for performing plastic surgeries.
Do Cancun hospitals have English-speaking doctors?
English-speaking staffs are widely available throughout Mexico, and not just in Cancun. Moreover, due to Cancun's favorable tourism history, English-speaking staff are more easily available here as compared to lesser-known destinations in Mexico.