Struggling with excess weight? Carrying extra weight can make your life more difficult and expose you to a variety of serious health conditions. Following strict diet or exercise plans oftentimes yields little to no results. For those patients, weight-loss surgeries become one of the only options.
However, the excess surge in medical costs has made it difficult to get access to weight-loss surgeries in countries like U.S and Canada. As a result, more and more people are traveling to Mexico for affordable gastric sleeve surgeries. Mexico provides affordable medical care and has dedicated medical centers to treat international patients.
Table of Contents
What Is Gastric Sleeve Surgery?
The gastric sleeve is a weight-loss surgery that removes around 80% of your stomach. The result is a tube-shaped stomach about the size and shape of a banana. Reducing the size restricts the amount of food intake and decreases appetite, which leads to weight loss. The gastric sleeve is a permanent and irreversible bariatric surgery.
Is Mexico Safe for Gastric Sleeve Surgery?
Mexico is safe for gastric sleeve surgery as long as your surgeon is board certified. Mexico has strict regulations for healthcare and has standards similar to that of the U.S. Not only that, the country has several medical centers with JCI accreditation, which is considered one of the top US-based international accrediting organizations.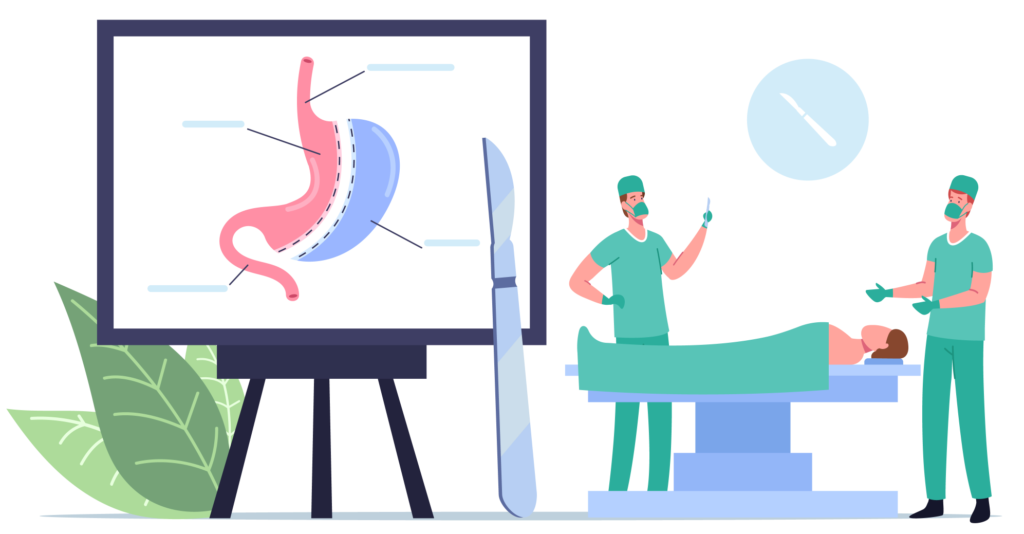 It is also common to find clinics throughout Mexico that provide successful weight-loss surgeries. However, it is highly recommended for international patients to stick to certified hospitals for the best safety. Hospitals specializing in medical tourism will have everything needed for an international patient, such as bilingual staff, intensive care unit, case managers, etc.
---
Benefits of Gastric Sleeve Surgery in Mexico
Mexico provides affordable prices for high-quality weight loss solutions. Due to the proximity and low prices, Mexico is a sought-after country for Americans and Canadians seeking bariatric surgeries. It is much easier to find JCI accredited hospitals and board-certified surgeons in most mainstream cities of the country. Here are some of the notable benefits of choosing Mexico for gastric sleeve surgery.
Significant cost saving
Reduced waiting times for foreign patients
Specialized surgeons for laparoscopic surgery
Board-certified surgeons
All-inclusive gastric sleeve packages are common
JCI accredited hospitals are available throughout the country
Ease of entry from the U.S and Canada
Cost of Gastric Sleeve in Mexico
Just like other surgical procedures, the cost of a gastric sleeve will depend on several factors. The cost in Mexico will vary based on the patient's condition, surgeon's credential & qualification, hospital, insurance coverage, and any other additional packages you have included.
You can expect to save around 70% of the total cost in Mexico even after adding the travel expenses. The cost of a gastric sleeve ranges from around $4,000 to $7,000, which is drastically lower than in other western countries. For instance, in U.S or Canada, you can expect to pay $18,000 to $22,000 or higher without insurance.
The Right Candidate for Gastric Sleeve
Not everyone can be a good fit for gastric sleeve surgeries. It is generally for people with obesity who likely have or are prone to having certain health conditions. Additionally, you cannot be a candidate if you are pregnant or may become pregnant in the future. It is also not appropriate for patients with medical conditions such as gastrointestinal disorders, autoimmune disease, cardiovascular disease, etc. You need to consult with your surgeon to know how you can prepare for the surgery and if you are eligible for this procedure. Here are a few general requirements for the gastric sleeve.
You are 18 years old or higher
You have tried non-surgical weight-loss methods but didn't see many improvements
Your BMI is 35 or higher
You are a good candidate if you are diagnosed with obesity and have conditions such as diabetes, asthma, high blood pressure, etc.
You have to be committed to long-term lifestyle changes
What Happens During the Procedure?
Gastric sleeve surgeries are typically performed laparoscopically, which includes small incisions in the upper abdomen. The surgeon will then insert instruments in the abdomen to perform the surgery. This process is considered less invasive.
However, depending on your condition, the surgeon may need to perform the surgery in the traditional process, which involves large incisions in the abdomen.
Medical staff will give you general anesthesia before surgery, which will keep you asleep and comfortable throughout the surgery. During the procedure, the surgeon will create a tube-shaped sleeve by stapling the stomach vertically. He will then remove the larger part of the stomach, which comprises around 80% of your stomach. The total surgery time usually takes around one to three hours to complete.
Recovery Time for Gastric Sleeve
If the surgery is performed laparoscopically, the recovery time will be shorter. However, you will likely have to stay in the hospital for 2 to 3 days before getting discharged.
The estimated recovery time is usually 2 to 3 weeks; however, it can vary depending on your condition. It will take 2 – 3 weeks for the incisions to heal and 6 – 8 weeks for the stomach staple line to heal. After one month, you can expect to continue a normal exercise routine.
Expected Weight Loss After Gastric Sleeve
The amount of weight loss depends on various factors, including lifestyle, diet, exercise, and health-related issues. You may likely see a significant loss in weight during the first three months, averaging around 25-35% weight reduction. In around six months, you can expect to lose an average of 45-55% of body weight. It is a continuous process and can take one year to three years to fully get rid of the excess weight. During this time, you need to maintain a healthy eating habits and an appropriate lifestyle and workout routine to see proper progress.
Top Hospitals for Gastric Sleeve in Mexico
Gastric sleeve surgeries are very common in Mexico, and specialized all-inclusive packages are also available for foreign patients. However, it is essential you select the right medical center for the best outcome. Not every surgeon can provide the same level of safety and quality. So, to help you select the right one, we have listed some of the more popular medical centers for gastric sleeve surgeries in Mexico.
Frequently Asked Questions
Does insurance cover gastric sleeve surgery?
Insurance will cover gastric sleeves, but the coverage varies from provider to provider. In general, insurance will cover bariatric surgeries such as gastric sleeve, gastric bypass, and gastric band. 
Why is weight loss surgery cheaper in Mexico? 
Mexico's weight loss surgeries are affordable, mostly due to the lower cost of living. The lower cost of staff salaries, office rents, utilities, equipment costs, and other bills help to keep the medical cost affordable. 
Is gastric sleeve dangerous? 
Gastric sleeve is considered a safe procedure and is one of the most frequently performed surgery worldwide. Just like other invasive procedures, the gastric sleeve also has risks, but the chances of unwanted side effects are very low. If you are getting this surgery from a board-certified surgeon, then you should have nothing to worry about.