Thailand was already adored by people as a tropical gateway for exquisite vacations, sparkling beaches, and the popular Thai Cuisine. On top of that, the country has become a growing trend for medical tourists thanks to its quality, cost, and a whole range of other factors.
If you live in the west then traveling to Thailand for healthcare purposes will be a step in the right direction. It will save you from long waiting lists and outrageously high prices. Most mainstream cities in Thailand, particularly Bangkok, offer the best quality medical care with top-notch facilities that surpass many western nations. Also, instead of a regular hospital bed, you get to recuperate in the hospital's luxurious cabins or tropical resorts at a fraction of the price.
This article is intended to give you a complete overview of Thailand's medical tourism. Here, you will get to know about the country's healthcare system, types of treatments & procedures, cost comparison, top hospitals, info about insurance, tips, and loads of other valuable information that will help you plan better for your trip.
Why Thailand for medical tourism
Often the number one reason for medical tourism is the monetary value patients save by turning to Thai hospitals. Cost-saving becomes more obvious if private treatment in the home country is exorbitantly expensive, like the ones in the US and Canada. Thailand not only offers a cheaper cost of treatment, but also the majority of its hospitals are certified and many are internationally accredited by organizations like the Joint Commission International.
International patients can take advantage of some of the selective hospitals like Phyathai Hospital and Bangkok Hospital, where they offer patients 5-star facilities during their stay. From check-in, translator services, to lounging facilities, all are offered by Thailand's top medical centers.
Overview of the medical system in Thailand
Healthcare in Thailand directly rivals the top western hospitals associated with organizations like the American Medical Association (AMA). The country offers over 1,300 hospitals, out of which at least 400 are privately owned. You will easily find at least one private hospital in most major regions of the country.
In Thailand, government-funded healthcare is widely available via public hospitals, however, that is only limited to local citizens. Foreign patients will have to pay normal charges for their treatment. The quality of medical care from public hospitals is good, but is often crowded and results in long waiting times. In addition, facilities may not be on par with the private alternatives.
For foreign patients, it is always recommended to get their treatment from private hospitals. The country is home to at least 60 JCI-accredited hospitals scattered all across the country, especially in the popular tourist zones. Medical expenses are more expensive in private hospitals, but the quality of care is much more superior. The staffs are highly trained and offer a much higher proportion of English speakers.
Be advised that it is important for a foreign patient to have international insurance. Private hospitals will require proof of patient's funding, so your treatment might be delayed without a proper insurance scheme.
Is Thailand safe for tourism?
Thailand is one of the least dangerous countries in Southeast Asia for traveling. Still, it is smart to exercise caution, especially when dealing with strangers. As long as you maintain standard safety protocols such as keeping an eye on belongings, staying aware of the surroundings, etc., you shouldn't have anything to worry about.
There are specific things that aren't actually "dangers," but something that tourists should be aware of: 
Scams are a common issue in Thailand. Local sellers may overcharge you for products and may sell you fake items. If this is your first time visiting Thailand, we highly recommend hiring a travel guide. They can help you bargain with sellers and identify genuine products. More importantly, they can help you navigate the tourism sites better. 
Stay aware and maintain hygiene when visiting rural areas. Some regions may be more prone to diseases such as malaria and dengue. Such problems aren't very obvious and are present during tropical monsoon climates. But these are something that travelers should be aware of when traveling in lesser-known rural areas.  
Common medical treatments in Thailand
Patients travel to Thailand for a wide variety of treatments including dental care, plastic surgeries, body check & scans, joint replacement, or even more complex procedures like orthopedic spinal surgeries. Although the country offers most treatments sought-after by foreign patients, some procedures are more popular than others. For example, aesthetic surgeries and dentistry are very widely available due to their demand. Here, we will be talking about those as well as the other renowned procedures offered by Thailand's hospitals.
Cosmetic/plastic surgeries
As compared to countries like the US and the UK, plastic surgeries in Thailand costs only a fraction of the price. Despite being affordable, the quality is on par with the highest standards. The popular aesthetic procedures include:
Breast implants: Thailand has tons of certified hospitals and clinics that offer the highest standard of care when it comes to breast augmentation. The price usually starts at around $3,000 and will go up depending on the size, type, and material you want for your implant. Breast implant comes at varying sizes ranging from 150cc to 1000cc. Once you talk to your surgeon, he will tell you which size will be best for you.
Facelift: Phuket is an excellent destination for affordable facelift surgeries. You can expect to pay around $2,000 to $5,000 depending on the type of facelift you choose. Options include mini facelift, Full Facelift with SMAS, Facelift with synthetic absorbable materials, facial restoration, etc.
Facial feminization surgery (FFS): Thailand has some of the top board-certified surgeons with extensive experience in FFS surgeries. The minimum price for such surgeries is about $1,600 and can go up to $6,300 or more. The price will generally include surgeon fees, anesthesiologist fees, recovery room, nursing, medications, and meals.
Hair transplant: Hair transplant isn't necessarily a highly invasive procedure, but the cost is a major concern for many western nationals. In Canada, hair transplant costs about $17,500, whereas, in Thailand, you can get the same treatment at just $2,000 to $6,000. Here, hospitals offer harvesting methods like follicular unit transplant, follicular unit extraction, direct hair transplant, and Robot hair restoration.
Liposuction: By traveling to Bangkok you not only get liposuction, but can also combine it with other procedures like facelift, breast reduction, buttock lift, or tummy tuck in inexpensive packages. On average, the price for liposuction is charged at around $3,200, however, you can get it at a far less or more expensive price, depending on the hospital and the type of surgery.
Neck Lift: In Thailand, neck lift surgeries are usually done under general anesthesia and will take at least 4 hours for the surgery to complete. Patients can also combine it with other minor surgeries like fat injection, fat transfer, brow lift, lip contouring, etc. A neck lift will cost around $2,000, but the price can go higher.
Nose Job: Rhinoplasty or also known as Nose Job is amongst the most common procedures done in Thailand. It comprises about 7.7% of the total surgical procedures done in the country. Nose Job will cost you anywhere from $500 to $1,200.
Hip Replacement: Thailand has several JCI accredited hospitals for performing Hip Replacement procedures. The cost for this surgery will typically start from $7,000 and can go up to $14,000 depending on the complexity.
Dental Procedures
From routine checkups to full dental implants, Thailand's dental centers are well-equipped to offer a complete range of services dedicated to foreign patients. Dental services are very common in Thailand, thus, clinics can be found in all minor to major regions of the country.
Dental Implant: Pattaya, Phuket, and Bangkok are two of the popular destinations for dental treatment in Thailand. The price for dental implants will vary depending on the type. For example, if you want a single tooth implant, then the cost will be approx. $700. An all-on-4 implant will start from $7,700 and go higher depending on the materials used for the implant.
Veneers: There are different types of veneers, but porcelains are the most common ones you can get. However, regardless of which country you choose, these are quite expensive. Luckily in Thailand, the cost of porcelain veneer is relatively cheap. It will cost you around $260 per tooth.
Braces: Braces are a popular and easier way to fix your facial expression. Depending on your goal, you can choose braces in varying configurations. The traditional approach is to get the metal braces, which costs a bit cheaper starting at $1,200. If you are worried about aesthetics, then getting ceramic braces will be a more preferred option, which will cost you something around $1,900.
Medical check-up programs
Thailand boasts numerous hospitals offering comprehensive health and wellness checkup programs for both local and international patients. Medical checkups have become a growing trend in the medical tourism industry, and Thailand is known to offer some of the most inexpensive packages. On average, you can expect to pay around $100 to $150 for a medical checkup. Packages are widely available for men and women of varying ages and medical conditions. Major hospitals in Thailand even offer check-up packages as an inclusive service.
Cardiac procedures
Hospitals like the Bumrungrad international are the pioneers in Thailand when it comes to performing heart and cardiac procedures. Common procedures carried out by the country's top hospitals include heart bypass, heart valve replacement, angioplasty, and much more.
Orthopedic surgery
Patients can travel to Thailand for a wide array of orthopedic surgeries ranging from diagnostic, therapeutic, and surgical services. Top medical centers have specialists trained from the US and other European countries. Depending on what type of orthopedic surgery you are opting for, the cost will be around $750 to $9,000, or higher.
Infertility treatment
In vitro fertilization (IVF) is allowed in Thailand, and luckily can be done at a considerably cheaper cost than many other Asian and western countries. However, it is advised that you look into the regulations for IVF in Thailand. The government allows sperm donation, but commercial sperm donations are illegal. The couple needs to be married and must provide a marriage certificate. There are other regulations as well. Anyways, the cost for IVF will usually be around $6,000 to $12,000.
Bariatric surgery
Bariatric surgeries are very common in Thailand, thus, can be found in most major cities. As weight loss treatments are very well developed, you will see doctors using the most up-to-date technologies for procedures like gastric bypass, sleeve gastrectomy, gastric band surgery, etc. In addition, as a medical tourist, you can get personalized care if you pick private hospitals that cater to foreign patients. The price you pay will highly depend on the type of surgery, the city, and the hospital you have chosen.
Gender Reassignment Surgery
Thailand is a global hotspot in providing sex-change surgeries. The country has decades of experience in this field and has an ample supply of trained surgeons to perform professional gender reassignment surgeries. Many of the major hospitals along with numerous clinics across the country offer male-to-female sex-change surgery. The cost of treatment is comparatively low, and depending on the technique and surgery, the cost can be approx. $8,400 to over $18,000.
Ophthalmology and eye surgeries
Eye surgeries are amongst the most common procedures done in Thailand. For example, in the field of cosmetics, Eyelid Surgery accounts for over 20% of the total surgical procedures performed. Foreign patients can choose from hospitals like Bumrungrad International, Bangkok Hospital, and BNH Hospital to get affordable eye surgeries. They offer everything from general treatment to surgeries that requires specialist professionals. Various bundle packages are also available that you can choose from based on your condition.
Top hospitals for foreign patients
Foreign tourists will quickly get overwhelmed by the sheer number of hospitals Thailand has to offer. Like we've mentioned before, there are over 1,300 hospitals available. Private hospitals are the better ones of the bunch, but not all can maintain international standards needed for foreign medical tourists. To help streamline your search, we have shortened the list into just 5 of the top internationally accredited hospitals. There are others as well, but these are some of the most well-recognized ones suited for most medical tourists.
Since its establishment in 1980, Bumrungrad has been a global pioneer for providing state-of-the-art medical services and has been serving international patients for about 4 decades. Bumrungrad International is not only one of the largest hospitals in Southeast Asia but is the first hospital in Asia to receive the prestigious JCI-accreditation.
Bumrungrad has 580 inpatient beds that include several Adult intensive care (ICU), cardiac care (CCU), pediatric intensive care, and Level IV neonatal intensive care. In addition, both local and international patients can also opt for the deluxe and royal suites for their post-operative care. The hospital offers over 1,200 doctors and over 900 nurses catering to varying medical specialties.
Bumrungrad International Hospital is globally recognized and is one of the most popular hospitals for medical tourists in Thailand. It treats over 1.1 million patients annually. Throughout the years, it has received numerous awards and certifications from both national and international organizations.
Location: 33 Soi Sukhumvit 3, Khlong Toei Nuea, Watthana, Bangkok 10110, Thailand
Phone: +66 2066 8888
Bangkok International Hospital is one of the largest hospitals and amongst the most popular in Thailand for medical tourists. BIH can be considered a one-stop solution for medical care due to its multidisciplinary approach. In addition to offering most of the sought-after treatments, the hospital is highly specialized in neurology, orthopedics, and spine-related procedures.
BIH is a highly outcome-driven hospital with evidence of high success rates and close-to-zero complications. It uses cutting-edge technologies for its diagnostics and treatments. Their technologies include ARTIS pheno: a robot-supported C-arm angiography system; Bi-plane Cath Lab: provides a highly accurate image of the brain and other areas of the body; O-arm system with StealthStation: for interoperative 2D/3D imaging for spine and neurological procedures, and much more.
Bangkok International Hospital has received numerous certifications and accreditations from organizations such as JCI, TEMOS, CAMTS, and HA. BIH also provides a dedicated international team for medical tourists and includes translators for more than 30 languages.
Location: 2 Soi Soonvijai 7, New Petchburi Road, Huaykwang, Bangkok, 10310, Thailand.
Phone: +662 310 3000
BNH Hospital was initially established as a nursing home for expatriates back in 1898 and is one of the oldest hospitals in Thailand. The notion of " the family doctor" is still present in BHN. Here, doctors provide very personalized care starting from consultation and diagnosis to follow-up care.
The hospital offers specialists in every field of medicine. Because of its standard of care and use of state-of-the-art equipment, the hospital has received accreditation from the Hospital Accreditation (HA) Of Thailand and the Joint Commission International (JCI).
BHN also offers various health packages catering to different types of conditions and patient demographics. Prices are reasonably affordable and are included on their website along with details of the package. Also, as an international patient, you can book an appointment directly through their website. From there, you can either pick a doctor of your choice or select the option to recommend a specialist based on your appointment information.
Location: 9/1, Convent Road, Silom Bangkok 10500, Thailand
Phone: 02-022-0700
Phyathai hospital group operates a chain of 5 hospitals to offer medical services. Each of them is situated in different locations and slightly varies in the type of services they provide. Phyathai 1 provides all types of medical services to foreign patients and offers multilingual translators. Phyathai 2 makes use of modern and up-to-date facilities and equipment and offers 550 beds. They serve 50,000 outpatients per month.
Phyathai 3 was created as an expansion to provide healthcare services to patients in Thonburi. It consists of 1 building with 300 beds and also makes use of advanced medical equipment. It is particularly popular for a few groups of services, which include women's health, child & adolescent health, heart & nervous system treatments. Phyathai Nawamin and Phyathai Sriracha are the other two hospitals of the group and are also well-reputed amongst foreign patients.
Samitivej Sukhumvit Hospital is one of 7 hospitals of the Samitivej group and is a leading healthcare provider of Southeast Asia. The hospital provides medical services from primary to highly specialized healthcare by making use of sophisticated medical technologies and equipment. It offers 275 beds, over 1,200 caregivers, and over 400 medical specialists.
Samitivej Sukhumvit is popular amongst local Bangkok residents and expatriates living there. The hospital offers a strong multilingual workforce and is seeing a rise in international patients coming from all around the globe. Sukhumvit has also received international recognition from UNICEF, and WHO. In addition, it is accredited by the Joint Commission International.
Location: 133 Sukhumvit 49, Klongtan Nua, Vadhana, Bangkok 10110
Phone: +66 (0) 2022-2222
Tips for finding a hospital in Thailand
Thailand offers plenty of world-class hospitals at an affordable cost. The standard of care, in general, for both public and private hospitals are good including those located in rural regions. However, not all can offer satisfactory service when compared to international standards. As a medical tourist, you should be looking for some specific features when considering healthcare in Thailand.
Look for hospitals with international accreditation
Your search will be much easier and streamlined if you look for hospitals with international accreditation – look specifically for the Joint Commission International (JCI) accreditation. JCI is considered as the Gold-Standard for the best level of medical care. Hospitals associated with it have proven that they are designed to support sustained quality improvement, knows how to reduce risks, focused on patient safety, and offer expert healthcare professionals for patient treatment.
In case you can't get access to a JCI recognized hospital, other international accreditations are available as well. Please note, just because the hospital doesn't have international accreditation doesn't mean they are not up to the mark. Private hospitals in Thailand, in general, are considered very good.
Know if the hospital is set up to receive foreign patients
The common issue with medical tourism is usually the language barrier. It is very evident when visiting Asian countries. When you look for hospitals, first see if they have international translators or bi-lingual staff. It is necessary to establish good communication between you and the medical professionals. In addition, hospitals treating foreign patients will usually offer virtual consultation, however, visiting the hospital physically will give you a clearer picture of their service, staff, and the environment of the hospital.
Location and atmosphere are also important when choosing a hospital. Having the hospital close to the airport will be ideal, but isn't absolutely necessary. But transportation and ease of access are necessary. You should easily be able to move from hospital to hotel and other locations without much hassle. The atmosphere and weather conditions will also add to your overall experience. So if you intend to go sightseeing, consider choosing the location of the hospital wisely.
Know the doctor
Private hospitals will generally offer trained professionals, and there's no need to worry about getting treated by a student. However, that's not the case with public hospitals. If you are open to visiting public hospitals, there are certain things about the doctor you need to know. Public hospitals offer three types of doctors:
Resident doctor: They are a part of the house staff of a hospital. These doctors spend the majority of their time in training and usually offer services like diagnostics, manage and treat health conditions under the supervision of a doctor.
Fellow doctors: Fellow doctors have completed their residency and have opted to continue training in a specialty. These doctors are fully credentialed physicians and are qualified to perform surgery independently.
Attending doctors: Attending doctors have completed their training and are specialized in a particular field of medicine. These doctors are experts and work independently with their own healthcare team.
Fellow and attending doctors are what you should look for when visiting public hospitals. It isn't uncommon for patients to become case studies for interns or medical students. So, ask specifically for either a fellow or attending doctor.
Applying for a medical visa in Thailand
In order to apply for a medical visa, you must have an appointment letter from a doctor in Thailand and an entry certificate issued by the Thai embassy. Moreover, the hospital you have chosen needs to be approved by the Ministry of Public Health (MOPH) for receiving foreign patients. Depending on which country you are from, there will be different requirements. The official documentation as well as the application process can be found on the Tourist MT Visa page.
Note that, you need to apply for the visa online, and need to complete the application at least 10 days before the travel date. Also, as a medical tourist, you can take at most 3 immediate family members on your trip.
Get an insurance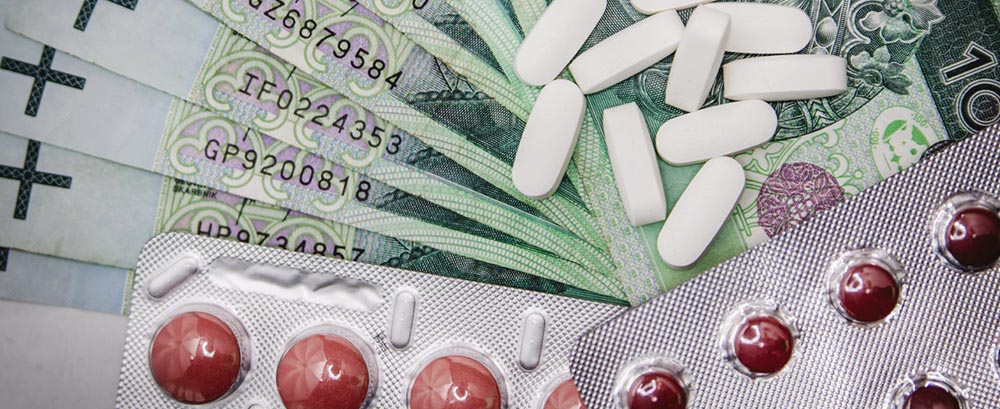 Getting insurance is highly recommended if you are traveling to Thailand for healthcare. This will not only help you avoid costly bills, but Thai hospitals will be most likely to prioritize patients with an insurance plan.
With insurance, there are two ways you can pay the bills. If the insurance company is associated with the hospital, then there's not much you need to do. All you need to do is just sign some documents prepared by the hospital. As long as all the medical expenses are covered by your insurance policy, you don't need to pay anything out-of-pocket.
On the flip side, if your insurance company is not associated with the hospital, then you will need to pay all the expenses out-of-pocket and later submit the medical receipts for reimbursement. So, if you don't already have an insurance plan, you can first choose the hospital and then select the insurance company partnered with them.
You can choose companies like Cigna Global for international insurance. They aren't the cheapest but offer very comprehensive insurance coverage plans.
Notifying credit card companies
Not setting out a travel notice to your credit card company can leave you in a problematic situation. Credit card companies are always monitoring potential threats. If they see any unusual transaction from foreign countries, your card will most likely get blocked. Medical bills aren't small unless you are getting general checkups, so it might trigger a potential fraud alarm. That being said, it is highly recommended to let your credit card company know about your foreign trip and that you might be making big transactions with the card.
Paying for medical bills in Thailand
Cash, credit card, and debit cards are widely accepted in Thailand for not just medical bills, but for other payments as well. Visa and MasterCard are the most popular ones. Wire transfers can be done from overseas as well via certain banks. You will need to contact the hospital to know their exact payment process.
Follow up services
For complicated procedures, it is easy to get follow-up care from the doctor that has treated you. If the doctor can't see you, they might refer you to another doctor or hospital. Usually, top private hospitals will offer the best and hassle-free follow-up care.
In addition, hospitals like Bumrungrad offers dedicated follow-up services to patients after surgery or acute illness or patients with chronic disease who need regular checkups. The hospital offers various packages depending on the patient's health condition.
Getting security updates from the embassy
Talk with your embassy regarding any potential security issues is recommended for everyone. In case if you are new to the country the embassy would be able to help you with any sort of travel warnings. Thailand is a very safe country, which is why it is one of the top tourism countries. However, it is still recommended in case if there's a temporary curfew, protest, or any similar event is going on. US citizens can make use of Smart Traveler Enrollment Program. It is a free service for American citizens to receive updates regarding security issues in the country they are traveling.
Staying in Thailand
Thailand is full of incredible options and offers something for everyone at all budget levels. The country has countless hotels, restaurants, and all the modern amenities scattered throughout all mainstream regions. Unless you have a specific hospital in mind, it would be ideal to first choose the location and decide what you want to achieve with your medical visit. Each city has something unique to offer. To help you decide, we have listed some recommended hotels & resorts from three of the most popular destinations for medical tourists.
Bangkok
Bangkok is Thailand's most colorful and bustling capital that brings tourists from all over the globe. The city always remains busy with locals, tourists, lined tuk-tuks, street vendors, nightclubs, parties, and tons of other activities. If you can afford to travel to only one city, then Bangkok will offer everything you need. The city offers travel opportunities at varying budget levels. There's also a huge amount of choice available when it comes to accommodations. From cheap to higher-end offerings, hotels are scattered throughout the city.
Some recommended options:
Phuket
If you are into islands and beaches and want to enjoy a blend of local culture, Phuket has some of the best offerings in all of Thailand. This lovely Thai province offers luxurious hotels, spa resorts, guesthouses, delicious local cuisine, etc., along with beautiful calm weather. The cultural diversity is quite unique in Phuket. Here, you will find a mix of Indian, Arabian, and Chinese cultures portrayed in the city's architecture and cuisine.
Some recommended accommodations are:
Pattaya
Pattaya is considered a party city and is well known for its nightlife. It is a suitable place to enjoy the sun, sea, and sand. Here, you will get all the luxuries of city life as well as get to enjoy fancy beach resorts, island trips, and a wide variety of foreign eateries. In Pattaya, you will commonly find activities related to surfing, swimming, sunbathing, bungee jumping, cycling, skydiving, and much more.
Some recommended hotels are:
Things to do in Thailand as a medical tourist
Depending on how long your medical procedure will take to complete, we recommend you plan to stay extra two weeks for vacation. This way, you will be able to visit many of the recommended destinations that are most popular amongst tourists. To get you started, here are some of our suggested activities that you can look into.
Visit cultural sites
Besides having outstanding beaches and beautiful landscapes, Thailand also has a fascinating cultural and historical heritage. The country has been ruled by numerous dynasties and also have endured many wars in the past. Traces of those past events can be found throughout the country.
As a starter, you can visit places like the Grand Palace, Wat Phra Kaew, Doi Suthep, and Ayutthaya Historical Park, which are some of the most popular tourist attractions. The country has many archeological sites, ruins, and various temples that you can visit as well.
If you are interested in learning about Thailand's war history, then visit JEATH War Museum and World War II Art Gallery & Museum. Here, you will get to see the historical significance of WWII including Thai history, Thai-Burma wars, and much more.
Eat local foods
Being a tourist mainstream destination, Thailand offers eateries from different cuisines from all around the world. However, to get the best authentic experience, stick to the local Thai cuisines. By walking just outside the streets, you will see countless stalls lined up, each offering something unique you can try out. From sweet, savory, to very spicy foods, there is something for everyone.
Although street foods are the most popular and the cheapest options in Thailand, you can also visit restaurants for more varieties of food and to get a more premium experience. Some of the must-try traditional foods you will find in Thai restaurants are Massaman Curry, Pad Kra Prao, Khao Soi, Yam Nua (Beef Salad), Pad Woon Sen (Stir-fried Glass Noodles), and Kway Teow (noodle soup), and many more.
Enjoy the beaches
Beaches and islands are the most popular tourist attractions in Thailand. The country has no shortage of stunning beaches and offers something for all types of people. For decades, Thailand's beaches have also been a major attraction for Hollywood cinemas, as many of the popular movies were shot here. Two of the popular names are Around the World in 80 Days and The Man with the Golden Gun.
Some of the top-rated beaches near Bangkok include Ko Samet, Koh Kood, Hua Hin, Cha-am, Pranburi, etc. Depending on which city you visit, you will find a lot more popular ones. Please note, for medical tourists, we recommend you stay in popular cities rather than traveling to rural areas. Surely, by traveling to rural areas you will find beaches and islands that are less crowded, but finding hospitals or hotels nearby will be more difficult. In city areas, you have easy access to all the essentials and modern facilities you may need.
Visit the floating markets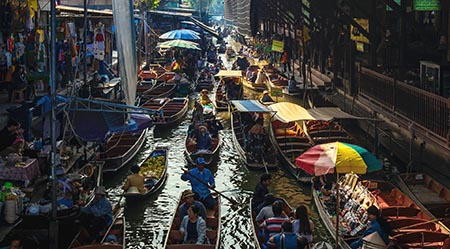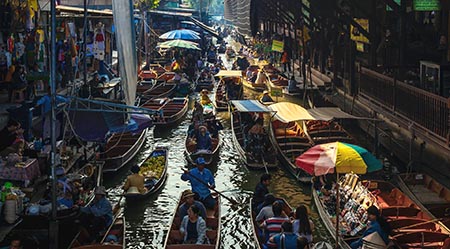 Thailand's floating markets are extremely popular among both locals and foreigners. These markets are located throughout Thailand and are a recommended visit if you want to experience authentic Thai culture. You will see boats everywhere selling all sorts of food, fruits, and a variety of other products. A large majority of the floating markets are near Bangkok including some of the popular ones such as the Damnoen Saduak, Amphawa, Wat Sai, and Bang Phli.
It is advisable to go to these floating markets early in the morning, as these tend to get crowded during the afternoon periods. Especially the popular ones will be very overcrowded, so look for less popular ones if you want a more relaxing tour. Try visiting the Taling Chan, Bang Krachao floating markets, both of which are in Bangkok.
Frequently Asked Questions
How good is medical care in Thailand
Thailand is ranked as the 6th best country to receive healthcare. It is also easily accessible as most major cities offer both private and public healthcare options. In addition, the country has at least 60 JCI accredited hospitals.
What are the top medical tourism procedures in Thailand?
Plastic surgeries, dentistry, cardiac, and orthopedic treatments are some of the most sought-after procedures in Thailand.
How much does it cost to see a doctor in Thailand?

The annual cost of a regular checkup in a private hospital will be approx. $100. For overnight stays, expect to pay at least $300.
Can foreigners buy health insurance in Thailand?
Yes, you can buy health insurance in Thailand. Typically, foreign patients opt for private health insurance due to its extensive range of facilities and standard of care.
Is Thailand safe for plastic surgery?
Thailand is one of the best destinations for plastic surgeries you can currently visit. The country is known to be very safe for not just plastic surgeries but for all other medical services offered by its top hospitals. As the latest technologies and methods are used, doctors are able to minimize the risk of complications to a greater extend.
How much does a tummy tuck cost in Thailand?
The cost will depend on what type of tummy tuck surgery you are opting for. For example, a full tummy tuck will cost you approx. $5,000.
How much is a facelift in Thailand?

Facelift in Thailand will cost on average $7,500 and can go higher or lower depending on the location and the hospital.
How much does breast lift surgery cost in Thailand?

Breast lift surgery will cost you around $3,00, however, if you want to include breast augmentation, it will increase to around $6,300.
How much is a mommy makeover in Thailand?
Mommy makeover including breast augmentation and tummy tuck is around $10,300. Note that the cost will vary depending on how much surgery is needed and what you want to achieve.
How much is health insurance in Thailand?
The cost of healthcare insurance varies depending on the type of package and coverage you are getting. On average, as an international tourist, you can expect to pay around $7,800.
Is health insurance mandatory in Thailand?
Healthcare insurance is mandatory if you are working in Thailand. Even if you are here for a temporary visit, it is still highly recommended to get healthcare insurance. Hospitals will highly prefer patients with at least some sort of insurance coverage to help pay the bills.
How much does dental work cost in Thailand?
The cost for dental work is around $600 to $6,000 depending on the type of dental work you get. Some clinics may even offer a free consultation.
How much does a full set of veneers cost in Thailand?
There are different types of veneers available. The most popular one is the porcelain veneer, which will cost you approx. $250 to $300 per tooth.